Looking for qualified candidates with disabilities?

A Job Board for job seekers with disabilities and the businesses looking to hire them.
For a few, the word disability exclusively conjures images of wheelchairs and seeing eye dogs – and while true for some, impairments take on many forms – the sales rep coming back to work after cancer, the executive resuming a skilled career after a heart attack, the veteran returning from war with a hearing loss. Disability can look different in people and in many cases, it cannot even be seen at all. What can be seen is the skill, the determination, the past record of success, the fight, the potential, and the ability. Male, female, young worker, or seasoned veteran, disability is an overlay of the entire workforce and the entire population – your market for recruits and your marketplace of customers live in this world.
The Sierra Group Foundation (the organization that sponsors the Employment Incentives site) also support the One More Way initiative. Let us know if you looking for a particular candidate and we can present that request to our network.
Yes! I have a job order that I would like present to qualified candidates with disabilities.Once you complete the basic contact information, someone will contact you to get the specifics and let you know how the One More Way initiative or our Candidate Sourcing option can help.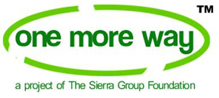 The Sierra Group Foundation launched its newest initiative in DC on Friday, April 18, 2008.
View the One More Way program overview.
This national Collaborative was well received by an audience of 50 distinguished guests - leaders in government, business and rehabilitation.
THE ONE MORE WAY COLLABORATIVE
One More Way is a national forum created in response to all of you who have told us that "it's hard to get connected." Any human resource manager will tell you that finding the right person is something akin to, at times, winning the hiring lottery. All of us have, even if silently, uttered a plea that 'there must be another way' to access the myriad of systems in place to help us achieve our staffing goals. There are times when the sheer size and fundamental nature of an endeavor requires people to come together with their gifts and talents to resolve that something better is not just possible, but rather it is essential. One More Way is an 'open source' effort that seeks to make information regarding job seekers with disabilities and the programs that support them available for use by hiring managers in virtually any field, across the country. This effort will bring key players together to clear up confusion and create new connections where sometimes, none have been established. The One More Way collaborative serves as a forum for all parties involved in the area of disability and employment "to come together to do together what we cannot do alone". By sharing what we know openly with one another, we know we can be the one more way to link together everyone who is involved with employees with disabilities. We want you to join us with the knowledge and experience you can bring to this project so that we can all have just One More Way to work together to lower the rate of unemployment for people with disabilities, starting with our veterans!
---
FACEBOOK

---